Project Description
Safe travel at Brussels Airport
The Briefing
Brussels Airport reached out to Sunweb to create a co-joint campaign with a focus on safe flying from Brussels Airport to different countries and destinations.
The Objective
Reassure the target group that flying from Brussels Airport is safe.

The Strategy
Everything is considered as 'new' and that gives pressure. Due to Covid-19, the world changed. 'New' became the most important adjective used in Covid communication. New normal. New standards. New procedures. New customer needs. New travel life.
After a long time of communication silence, we are back on track. Our fanbase and clients are waiting. The world is waiting to travel again. But with all the everyday changes, one can't see the light anymore. And therefor, you need a trusted partner. Compare it with the butcher, he knows what people want by serving it in the counter.
And a trusted partner, he will sort things out for you. So, we are going to simplify things into a comprehensive guide. And we will do this by 'back-to-basics' in communication. Keep – It – Simple – And – Stupid.
Our target group just needs to be reassured that a safe flight from Brussels Airport is still the same as it was.
This campaign was a nice example of little ideas making big impact.
The Solution
Phase 1: providing information on big reach media
We started a campaign with transactional short trailers (10") with a short but confident message: fly safe from Brussels Airport
Phase 2: explaining the journey
As we are all aware that everything is a little bit 'new', we brought the necessary information to our customers. In a social campaign we informed our customer with all the information and checklists he needed to depart and arrive safe at Brussels Airport.
We produced an infographic which the customer guided through all the regulations at Brussels Airport..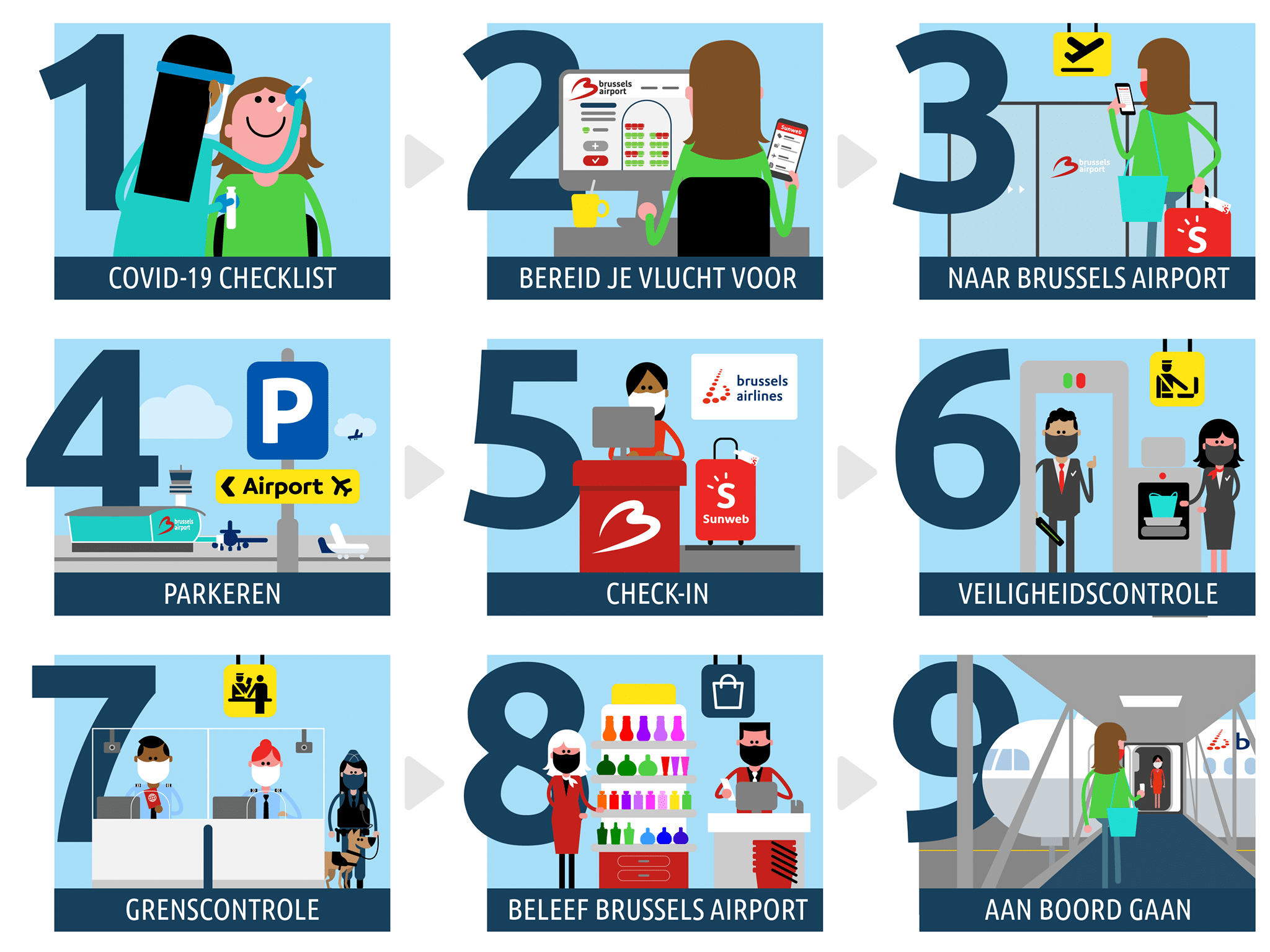 Media Approach
We used radio and our own different media channels (Facebook, Instagram, newsletter and promopage) to distribute the message..
.